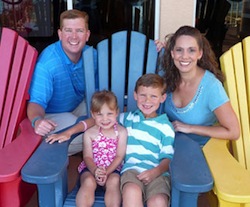 Harry Landsaw, O. D.
Optometrist at Landsaw Eyecare in Tavernier, Florida
Dr. Harry W. Landsaw is a native of Norman, Oklahoma and northwest Arkansas.
He studied microbiology at the University of Arkansas in Fayetteville, AR. Due to his high honors, grades, and accomplishments at the University of Arkansas, he was accepted to Southern College of Optometry in Memphis, TN after three years of college.
While attending Southern College of Optometry, Dr. Harry received the Outstanding Clinician Award and was on the Dean's List.
During his last year in optometry school, he completed an externship with an ophthalmology group practice in Germantown, TN. He received extensive training on the latest ocular surgeries and treatments of eye diseases.
He completed a second externship in Bartlett, TN, where he expanded his knowledge in primary care optometry in an independent optometrist's office.
After graduating from optometry school, Dr. Harry worked with a large group of optometrists in the Dallas/Ft. Worth area where he received the New Associate of the Year Award.
Dr. Harry is a dedicated college football fan.